OUR WINES Join Our Mailing List
2013 Chardonnay -- Re-set your Palate
Silver Medal Winner San Francisco International Wine Competition 2017
Our first Chardonnay was produced in 2010 to create a wine we liked to drink. Our cool climate fruit was barrel fermented, half in new French Oak and half in stainless steel, stirred on the lees three times a week, with no malo-lactic fermentation. The result is a Burgundy style wine with bright acid, tropical fruit, Meyer lemon and honeysuckle aromas, nice minerality and a rich mid-palate with just enough oak to pull it all together into a long, sweet finish.
This wine will re-set your palate for Napa Valley Chardonnay.
2013 - 275 Cases Produced 750 ml $39
2012 - 285 Cases Produced 750 ml $39 Sold Out
2011 - 750 ml -- Sold Out
2010 - 750 ml -- Sold Out
Order Now To Secure Yours
2011 Late Harvest Chardonnay -- This wine is sold out, but still worth talking about.
"Balance" describes all our wines, but our Late Harvest Chardonnay defined the word. At 11% alcohol and 11.7% residual sugar, it is neither 'hot', nor cloyingly sweet. The first sip wakes up your palate with fresh fruit acid, fills your mouth with nectar-like qualities, and then extends into a finish you won't forget. The perfect wine matched up with a wide variety of desserts, cheese plates, dried fruits and candied nuts.
Only 49 cases produced 375 ml $56 -- Sold Out
2008 Cabernet Sauvignon -- Current Cabernet Release
Gold Medal Winner San Francisco International Wine Competition 2017
2008 started off with significant frost damage and then rain during bloom, resulting in a very light crop. The 2008 Cabernet was whole berry fermented in open top French Oak Barrels, resulting in a dense, rich color extraction, and extremely smooth tannins. This wine has aged very well, opening up with intense characters of black fruit, cocoa and dried herbs. This wine will be remembered as one of our very special vintages.
Only 186 cases produced 750 ml $100
20 cases produced 375 ml $56
The rich and juvenile character of the 2007 make it the new kid on the block, released in April, 2012. Sound acidity and youthful tannins set this wine well with bold foods that can handle its power.
293 cases produced 750 ml $100
30 cases produced 375 ml $56 -- Sold Out
2006 Cabernet Sauvignon
The 2006 Cabernet is ripe and luscious, reminiscent of the 2002 and 2004 vintages. The silky texture is the entry to a complex of black fruit, tea leaves, dried herbs and spice.
260 cases produced 750 ml $100
30 cases produced 375 ml $56
2005 Cabernet Sauvignon
Deep, rich and full of ripened fruit flavors, our 2005 Cabernet will delight your palate. Rich with black fruit characters, this wine shows the lushness of our 2003, with sweet aromas of cedar, cigar box and fruit. As expected, this wine finishes with a long sweetness that characterizes our balanced wines.
220 cases produced 750 ml $120
15 cases produced 375 ml $56 -- Sold Out
2004 Cabernet Sauvignon
Rich, complex and restrained, the 2004 was released a year after our 2005. Much like the 2002, this wine was slow to open up, but the wait was worth it. Deep and rich, this is a powerful wine that is developing its smooth, creamy texture on the palate. The deep, bright garnet color gives you an early glimpse of what to expect. Rich black fruit aromas continue to evolve as this wine sits in the glass, followed by soft, silky fruit tannins on the palate. Balance is the key: fruit, oak, and acid in perfect harmony for a solid structure, creamy rich mouth feel and a lingering sweetness on the finish.
270 cases produced 750 ml $125
2003 Cabernet Sauvignon
Rich, deep flavored, ripe fruit gives the 2003 a full, creamy mouth feel with that soft, silky tannin structure that characterizes our Cabernet. Aromas of black fruit, cassis, tea leaves, and cocoa brought forward by a rose petal richness. Very rich on the palate, with a long, silky sweet finish. You won't want to miss this limited Wicker vintage. Limited availability from our library selections.
"This is my NEW favorite vintage" is an expression we are hearing a lot recently.
97 cases produced 750 ml $130
Very Limited Availability
2002 Cabernet Sauvignon
Initially restrained, our 2002 is a powerful wine now showing the floral, black fruit nose of the '01. Deep garnet color, big chewy mouth feel with a soft, silky texture, ripe black fruit flavors and a potpourri of aromas from tea leaves, sweet clove, orange peel, mint, cocoa and leather. The long sweet finish will leave you longing for another sip, and asking yourself what this wine will be in another 5 years. I am continually struck by the power of this vintage. Limited availability from our library selections.
103 cases produced 750 ml $130
Very Limited Availability
2001 Cabernet Sauvignon
Our first year leads off a wonderful string of vintages from our vineyard on Howell Mountain. This full bodied mountain Cabernet is open in the glass, with a floral aroma backed with the richness of chocolate cream, hints of tea leaves and leather. This wine is aging gracefully and is showing the elegance of pure Howell Mountain Cabernet. Very limited availability from our library selections.
72 cases produced 750 ml $125 -- Sold Out
2011 Wicker Vineyards '975' Cabernet Dessert Wine
(We can't call it Port, but we can make it taste like one)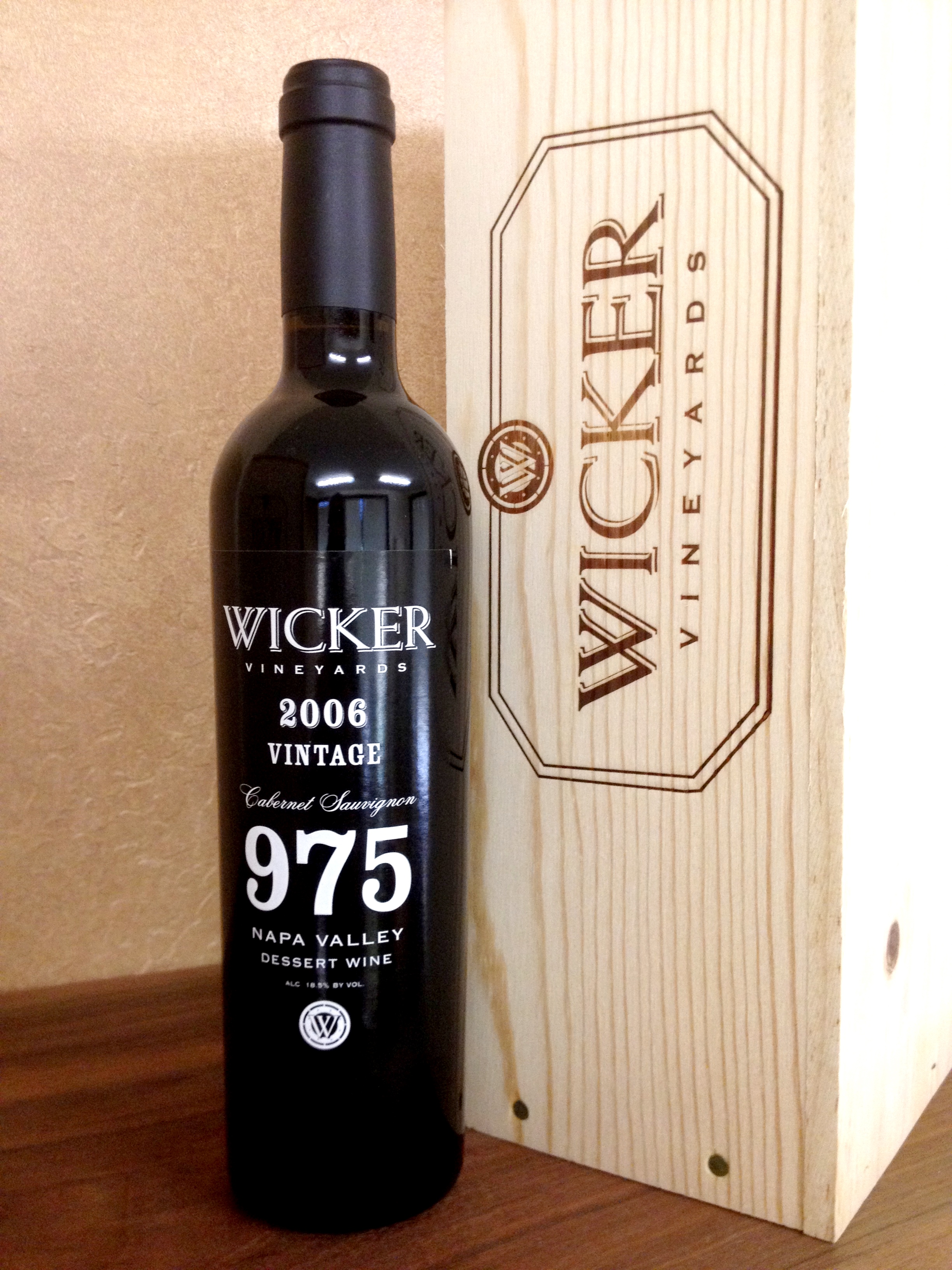 This late harvested, dessert style wine will be the perfect encore to your evening meal. Fruit driven, it is neither cloyingly sweet at 6% residual sugar, nor overly alcoholic at 18.5% alc. Fortified with incredible high proof, barrel selected from the distillery at Germain-Robin, it has layers of ripe fruit and chocolate with a wonderful Congnac undertone. As with all our wines, balance is the key to the approachability and ageability of this superb bottling. Only 35 cases were produced, this wine will soon be gone. 35 cases produced 500 ml $90
BUY NOW Please download and complete an Order Form (.pdf), and either phone, fax or mail the information to our office.